COVID-19 NOTICE
As an essential business supplying scientific and protection equipment to consumers, national labs, hospitals, military and government our warehouse is still open and shipping orders daily. All orders are shipped with employees at shipping stations at least 6ft apart wearing protective face masks and gloves. All shipped product is handled with gloves. All shipping stations and common areas are sanitized daily. We are going above and beyond the CDC and WHO recommendatons on sanitation and employee protections during these challenging times.
Customer Service
For fastest customer service, please fill out the form to the left. One of our representatives will reply or contact you the same business day.
Placing an Order
Please use our website to place your order. Our website is secure, you can see real-time stock for each product and all shipping options, from standard ground to next day air. In order to offer the best possible prices for our products we do not offer phone ordering. If you prefer to place your order over the phone, you can call us at 1-888-438-9867, Monday to Friday 9am to 3pm PST. Please note that our free shipping and coupon discount offers are only valid for online orders and not for phone orders.
School Purchase Orders
We accept purchase orders from schools and other educational institutions. Purchase order minimum is $100. Email your purchase order to info[at sign]xump.com or mail it to our address below.
Click here for our W9
Shipping Info
All orders are shipped from our warehouse in Lakewood, California. Below is the FedEx Ground delivery time map for your reference. We also ship internationally to over 100 countries!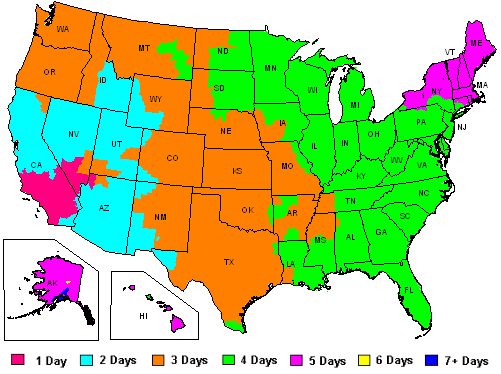 Other Info
Click here
for more frequently asked questions about our pricing, shipping and returns policies.