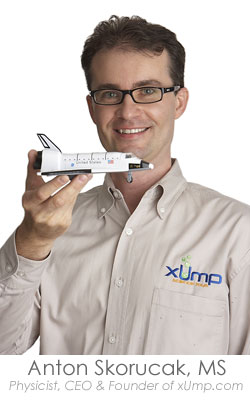 Info About xUmp.com
xUmp.com is a leading internet retailer of scientific, educational supplies, toys, and gifts.
Our mission at xUmp.com to provide excellent quality, highly educational products that promote the comprehension of science. We at xUmp.com constantly search for new and innovative products that will inspire children's outlook towards the many fields of science. Our approach at xUmp.com is a simple one. The best way to learn about something is to make it fun. All of the products we sell have been carefully screened and selected by our on-staff scientists to maximize learning and fun.
Why Are We Here?
Here are some of the core reasons why xUmp.com was created:
Promote Science and Education
Stimulate Curiosity and Imagination
Provide High-Quality Science Supplies & Toys
Make Meaningful Toys Available Affordably
Our Service Difference
We believe in quick and honest communication with our customers, vendors, and employees. We guarantee 100% customer satisfaction or your money back. Any damages or returns are always handled quickly and with no additional cost to our customers.
Scientists on Staff
Our founder is a physicist, and we regularly employ scientists, educators, and science students. This allows us to give our customers the best technical assistance with their science fair projects in the marketplace! We frequently organize hands-on science activities for kids at our headquarters and local schools.
Contact us
if you would like us to come to your school.

Green Company
At xUmp.com, we care about the environment. We also think that thinking about ways to use alternative energies to reduce, reuse and recycle opens up an exciting world of learning opportunities.
Click here to learn more about our green efforts
.
We Are International
We are proud to be the only internet retailer in our category to ship to over 110 countries worldwide!
Testimonials
Nerdiness to the max, but SO UBER COOL. They have glow-in-the-dark stars, a DNA helix building kit, various educational dvds... do I officially sound like Bill Nye's assistant? ok but seriously. This place is so great to get little things for kids. They seem enjoyable, and hey, it doesn't kill that they'll learn something too.
Lisa M., Rancho Palos Verdes, CA
My item arrived way before I thought it would and arrived in great shape. Excellent service. I would order from XUMP again.
Jocelyn H., Los Angeles, CA
These folks were SO friendly and helpful on the phone. Would definitely shop with them again.
Jordan B., Glen Allen, VA
Their Newton's Cradle is so much better than the smaller ones we looked at. Son is having a great time with it.
Tracy T., Highlands Ranch, CO
Truly friendly and helpful service. A joy to work with. Thanks so much for looking out for my needs. You made a difficult situation simple.
John C., Henrico, VA
Excellent product. Suprisingly durable considering the price paid. Will order again and again from xump.com. Customer service is off the charts. Called with a minor question and was given the red carpet treatment. What a pleasure to do business with a company that still believes in customer service. Good product from an excellent vendor...who could ask for more? A+++++++++
Chris M., Elk Park, NC
Extremely fast and great quality. I i ordered standard shipping and got the items 2 days from when I placed the order. HIGHLY RECOMMENDED
George D., Santa Clarita, CA
This was everything promised. I was amazed by the speed my order was processed and shipped. I was let down by several other vendors who blamed all of their problems on the "holiday rush". I had absolutely no problems with the product, value or service here!!! I will definitely use xump.com again.
Megan G., Oyster Bay, NY
You are just the place I have been looking for. Training for my grandchildren and reminding me why I am a physicist. Please stay forever.
Steve A., Tracyton, WA
All the items were checked and are exactly as ordered. You people do a Great Job! You have the best on-line ordering system I've seen, and it seems to work perfectly.
Mack T., Sparks, NV