Category: Globes
Desk Globes
These compact classic desk globes will add some class to your home or office decor, or allow children to explore geography in a hands-on manner. We offer both globes with stands and levitating globes that hover above a magnetic base.
---
Item#:
16563
$99.95
Inflatable Globes
Inflate these 12-24 inch globes and learn about countries, cities, capitals, oceans, and much more! Play harmless throwing games with these blow-up globes, and memorize geographical concepts with our writeable globe!
---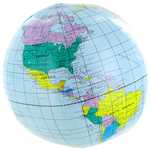 Item#:
10508
$2.49
At xUmp.com you will find a large selection of scientific products carefully curated by real scientists and educators. We sell everything from educational toys, teacher supplies for science classroom, lab equipment, science toys, science fair supplies, classroom equipment, chemistry glassware, chemistry lab equipment, physics demos, electronics supplies, robots, science kits to geeky science gifts.